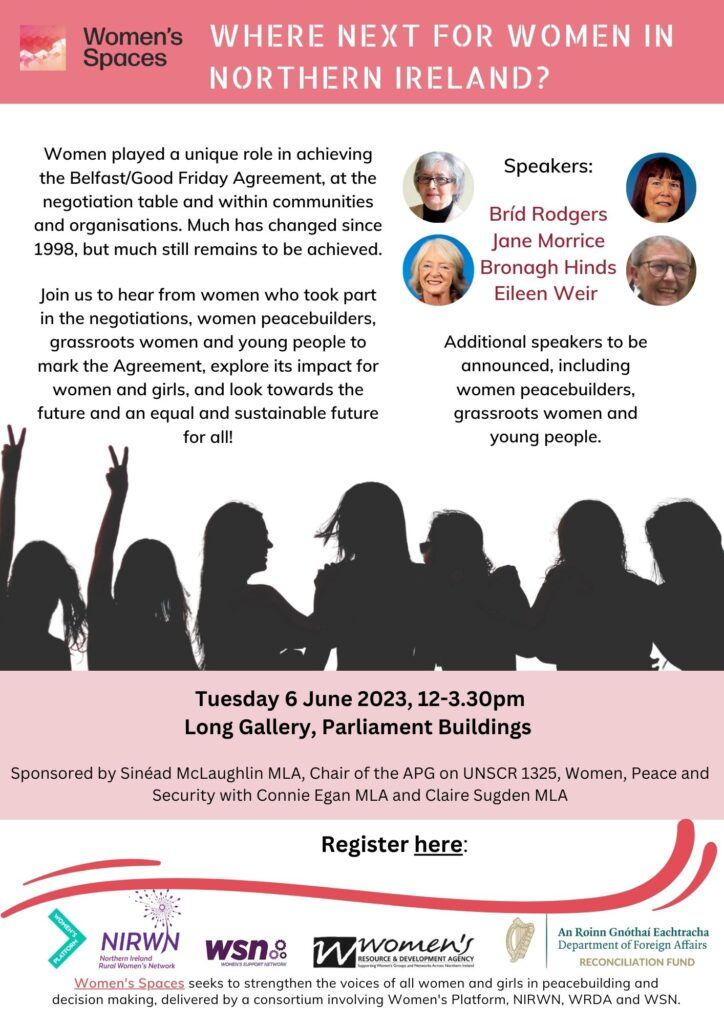 Author:
Jonna Monaghan
Published:
April 26, 2023
Join us to explore Agreement+25: Where next for women in Northern Ireland?
Women played a unique role in achieving the Good Friday Agreement, both at the negotiation table and through their work in families, communities and organisations. Much has changed since 1998, but much still remains to be achieved. Women still want to engage with policy and decision making, and are keen to make their voices heard to create an inclusive, equal future for all.
This event will celebrate the role of women in achieving the Belfast/Good Friday Agreement and its role for women and girls. It will also look towards the future, to explore what is needed to fully embed gender equality in both society and structures, strengthen women's leadership and create a Northern Ireland that works for women and girls.
The event will hear from women who took part in the negotiations, as well as women peacebuilders, grassroots women and young people. Speakers will reflect on the Agreement, its impact for women and girls, and share their priorities for what is needed now to create an equal and sustainable future for all.
The event is sponsored by Sinéad McLaughlin MLA, Chair of the NI Assembly All Party Group on Women, Peace and Security, with Connie Egan MLA and Claire Sugden MLA
The in person event is now fully booked. but a live stream is available. Register here for the live stream.
Event agenda:
12pm               Registration – sandwich lunch available
12.20               Welcome
12.30               An Agreement for everyone: Reflecting on 25 years of the Agreement
Chair: Louise Coyle, Northern Ireland Rural Women's Network
Panellists: Bronagh Hinds, Democrashe; Bríd Rodgers; Jane Morrice
13.10               Walking the talk: Building peace from the grassroots
Chair: Anne McVicker, Women's Resource and Development Agency
Panellists: Charmain Jones, Northern Ireland Rural Women's Network; Eileen Weir, Shankill Women's Centre; Nisha Tandon, ArtsEkta; Beverly Simpson, North West Migrant Forum
13.50               Tea and coffee
14.10               Voices from the grassroots: A future that works for all women
Chair: Karen Sweeney, Women's Support Network
Panellists: Deena Nimick, Centre for Independent Living; Kathy Wolff, Community Relations Forum; Danielle Roberts, HereNI; Angela Mulholland, Ballymoney Resource Centre
14.45               It's our future: young women's priorities, hopes and dreams
Chair: Sarah Stack, WRDA
Panellists: Lydia Nimick; Anna Monaghan; Meg Stith; Alexa Moore, Human Rights Consortium
15.20               Engaging with the Assembly
NI Assembly Connect team
15.30               Close
A light lunch will be available on arrival. Please confirm any dietary or access requirements to info@womensplatform.org.
This event forms part of the Women's Spaces project, which seeks to strengthen the voices of all women and girls in peacebuilding and decision making. Women's Spaces is delivered by a consortium involving Women's Platform, Northern Ireland Rural Women's Network, Women's Resource and Development Agency and Women's Support Network.
The project is a Strategic Partnership funded by the Department of Foreign Affairs Reconciliation Fund.
---