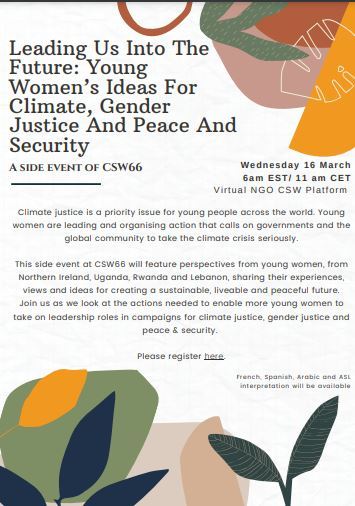 Author:
Jonna Monaghan
Published:
February 25, 2022
Leading Us into the Future
---
Climate justice is a priority issue for young people across the world. Young women lead and organise action at the local level, and advocate to governments to take the climate crisis seriously. Young women are also speaking out and shaping the campaign for gender equality and gender justice, ensuring a focus on women and girls in all their diversity. Their voices and contribution offer a roadmap for achieving change. But young women need support from civil society, to give young women a full platform and amplify their voices.
This event focuses on young women to share their experiences, views and ideas for creating a sustainable, liveable and peaceful future. Speakers will share their priorities for action and thoughts on how we can enable more young women to take on leadership roles in campaigns for climate justice, gender justice as well as peace and security.
Interpretation into Arabic, French, Spanish and ASL will be available at the event.
Speakers confirmed so far include:
Eva Martin, member of Extinction Rebellion, Northern Ireland
Evelyn Acham, Rise Up movement, Uganda
Honorine Isingizwe, Young Women+ Leaders for Peace, Rwanda
Bibiana Largo, activist, Colombia
Naheed Farid MP, member of former Parliament of Afghanistan
Register here!